ISO 17034 Accreditation
EffecTech is proud to announce it has been granted accreditation to ISO 17034 as a producer of reference material by the United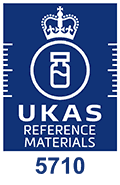 Kingdom Accreditation Service (UKAS). This accreditation will help customers who are increasingly required to comply with this standard by their local accreditation bodies.
The accreditation covers the production of Certified Reference Materials (CRM) for the following gas mixtures:
natural gas and liquefied natural gas (LNG)
sulphur and odourants gases, and
continuous emission monitoring (CEM) gases
This is EffecTech's fifth accreditation awarded by UKAS, demonstrating the company's commitment to providing customers with the best products and services of the highest quality. EffecTech is one of only a small number of companies in the UK with ISO 17034 accreditation, demonstrating that we remain at the cutting-edge of standardisation.
To find out more, see our press release  or news page.
What EffecTech can do for you
Find out about EffecTech's commitment to excellent quality and service for customers worldwide in our video
EffecTech is the global leader in gas measurement, providing accredited inspection, calibration and testing services to the energy and power industries for gas quality, flow and total energy metering. Our highly trained and experienced staff provide fast and effective solutions to your fiscal, regulatory, contractual, safety and environmental gas measurement requirements.
EffecTech operates from Staffordshire in the UK, offering UKAS accredited calibration and testing laboratories at all sites. EffecTech also supports agents and distributors in other key countries to service the needs of specific local markets. From these locations, EffecTech is able to supply high-quality products and services to customers all over the world.
For more information about our products and services, please contact us.
If you would like to provide feedback to EffecTech about any aspect of our service, please complete our customer feedback form.

---
New edition July 2021
As you browse this brochure you will realise that everything we offer here is covered by one or more of our quality accreditations awarded by United Kingdom Accreditation Service (UKAS).
Find out more about EffecTech's commitment to quality and service for customers all over the world.
Find out more about the benefits of using EffecTech's calibration gases
See a full list of our accreditations