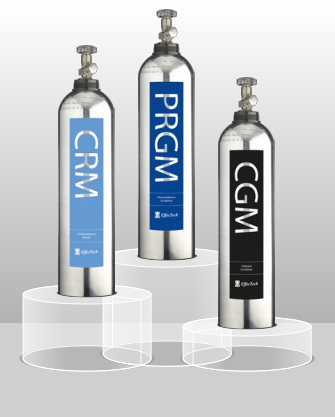 Using EffecTech® calibration gases can greatly reduce the uncertainty of the gas measurements you make whether it be underpinning your fiscal, contractual or environmental obligations.
For more information, or to send a request for quotation, please contact us.
EffecTech has been an ISO 17025  accredited calibration laboratory for over 20 years, and has now been awarded ISO 17034 accreditation as a producer of certified reference materials.
EffecTech supplies certified reference materials (CRM) and calibrated gas mixtures (CGM) for the following applications:
EffecTech's Accredited Laboratory
Watch our video to find out how EffecTech achieves its low uncertainties.
EffecTech provides high quality calibration gas mixtures with unrivalled traceability, accuracy, stability and delivery. EffecTech calibration gas mixtures are:
provided with excellent lead-times
prepared by high precision gravimetry compliant with ISO 6142 – Part 1 : 2015
calibrated and verified analytically by traceable comparison methods compliant with ISO 6143 and ISO 12963
EffecTech provides different classes of calibration gas mixtures depending on your requirements
Primary Reference Gas Mixtures (PRGM)
Certified Reference Materials (CRM)
Calibrated Gas Mixtures (CGM)
Calibration Gas Certificates
From mid-December 2021, all EffecTech calibration gas mixture types that are included in both our ISO 17034 and ISO 17025 scopes of accreditation will be issued with two certificates. To find out more information and the benefits of both ISO 17034 and ISO 17025, visit our Calibration Gas Certificates page.
For more information, or to send a RFQ, please contact us.
View our Sample Reports and Certificates in our technical papers section.