Measurement errors can occur at any stage in the gas quality measurement system. EffecTech's ISO 17020 accredited inspection provides an objective assessment of the sampling system, pressure reduction system, carrier and calibration gas systems against industry best practice. This gives confidence that the sampled gas is being conditioned appropriately and is representative.
Regular inspections give customers confidence that every stage of their gas measurement process on their sites has been assessed in line with the requirements for their particular measurements. EffecTech's wealth of experience in gas measurements systems means that all recommendations are based both on the most up to date equipment and industry best practice.
An EffecTech ISO 17020 inspection covers:
Sampling
Sample conditioning
Calibration
Analysis
Physical property calculation
Staff training
Quality control
Maintenance
A detailed report is provided, which makes recommendations, where appropriate, to improve the measurement system.
Support services
As part of our service we include free telephone support and advice including:
Analytical procedures
Calibration gas composition
Quality control procedures
Refinement of parameters to improve gas quality measurements
Gas Quality Chain
The image below describes a typical analysis of the whole gas measurement system.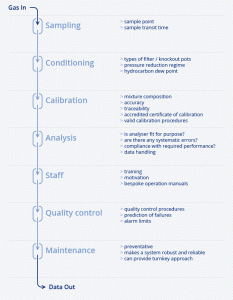 For more information, please contact us.
View our Sample Reports and Certificates in our technical papers section.