From mid-December 2021, all EffecTech calibration gas mixture types that are included in both our ISO 17034 and ISO 17025 scopes of accreditation will be issued with two certificates. The composition and properties (if any) included on these will be identical.
One will feature the ISO 17034 accreditation symbol indicating that the mixture is a Certified Reference Material (CRM):
The other will feature the ISO 17025 accreditation symbol indicating that the mixture is also a Calibrated Gas Mixture (CGM):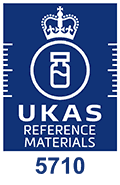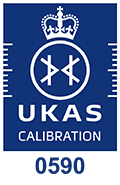 Why are we doing this?
EffecTech's calibration laboratory now holds two ISO accreditations:
If covered by both accreditation scopes, your gas mixture may be classified as both a CRM and a CGM. However, we are no longer able to issue a single certificate containing both accreditation symbols to show this. This is due to a recent change in the European cooperation for Accreditation (EA) policy (EA-3/01) which only allows for a single accreditation symbol to be used on certificates. As a signatory to the EA-MLA, UKAS, our accreditation body, is obliged to fully comply with all EA mandatory documents.
We understand that our customers may need to show evidence of both or either accreditation, depending on their requirements, so we have made the decision to issue both types of certificate for mixture types included in both our scopes of accreditation.
ISO 17034 – certified reference materials (CRMs)
One of the main benefits of ISO 17034 is that it provides stability information for the gas mixture. The ISO 17034 certificate provides shelf life information as part of the scope of accreditation. For more information about the benefits of ISO 17034 and how it differs from ISO 17025 accreditation, please see the Why ISO 17034? lightbox.
ISO 17025 – calibrated gas mixtures (CGMs)
This standard is sometimes specified as a requirement by legislation and/or in contractual agreements so customers will need this certificate in order to be compliant. However, the ISO 17025 standard does not cover shelf life or mixture stability so an expiry date of the mixture cannot be included on the certificate.
For more information, please contact us.
ISO 17034 accredited certified reference materials are the industry-standard recommendation for customers.