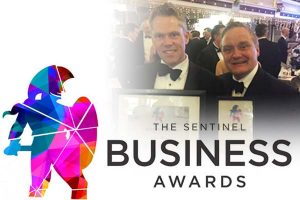 Not content with winning the Staffordshire Sentinel's Small Business of the Year Award in 2014, EffecTech have scooped yet another prestigious award in 2015.
EffecTech was chosen by the Judges from Staffordshire University and crowned "Science and Technology Business of the Year" in an awards ceremony held in the King's Hall in Stoke-on-Trent on 24 March 2015. The judges were looking for an outstanding company who could demonstrate that their innovative use of science and technology is helping to improve and grow their business, recruit additional employees and benefit the wider community or environment.
EffecTech have made a number of World leading innovations over the last year including the production of reference liquids for LNG applications and the ability to prepare Primary Reference Gas mixtures which was once only in the remit of National Metrology institutes.