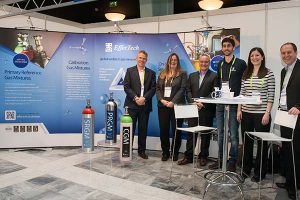 EffecTech's Directors, Drs Paul Holland and Gavin Squire, along with six members of EffecTech staff, attended the 8th International Gas Analysis Symposium & Exhibition (GAS2015) from 10th to 12th June.
EffecTech also exhibited at the conference for the first time with a new display stand and brochure. Also on show was the EffecTech cylinder range for Primary, Secondary and Calibrated Reference Gas Mixtures.
Dr Paul Holland chaired the Natural Gas and BioGas Session as well as presenting a paper called 'Development of the world's first facility for the preparation of traceable cryogenic LNG reference liquids'. In addition, Dr Gavin Squire presented a paper entitled 'Development of a dynamic dilution system for calibration of multi-component emission gases' and Gergely Vargha, EffecTech's Principal Research Consultant, spoke on 'Accurate GC measurement of gases with highly adsorptive molecules at low concentration levels'. EffecTech also presented a poster entitled 'Monitoring your gas chromatograph performance' by Gas Quality Engineer, Leon Kashap.