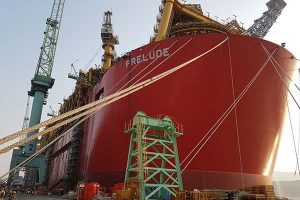 As part of the final preparation for the launch of the Shell Prelude, EffecTech's Chief Executive Officer, Dr Gavin Squire, visited the facility in South Korea in April.
Dr Squire carried out ISO 10723 performance evaluations on the Facility's laboratory gas chromatographs to determine whether the gas quality measurement system met the required specifications to meet regulatory and contractual obligations. Dr Squire also delivered a day's training for key Shell staff.
Shell's Prelude, the largest offshore floating facility ever built, left the Samsung
Heavy Industries shipyard in Geoje, South Korea on 29 June, after five years of
construction. The FLNG then had a 3,600 mile journey to its new home, 295 miles off the coast of Broome in Western Australia. Once fully commissioned, the FLNG will it will tap into natural gas resources in the Browse Basin to produce natural gas for customers all over the world.