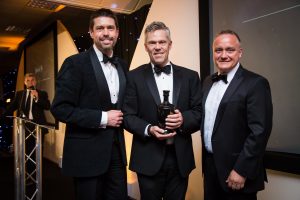 Last night, EffecTech won the International Trade award at the Staffordshire Chamber of Commerce awards dinner!
Pictured are EffecTech CEO, Dr Gavin Squire (right) and Business Development Director, Dr Paul Holland (centre) with Robert Lawley, Head of the Department of International Trade for Staffordshire.
EffecTech were also runners-up for the Science, Technology and Innovation award. The winners of this category were Specialised Orthotic Services.
A great night was had by all!
To find out more about the awards, visit the Staffordshire Chamber of Commerce website.
The official photos of the awards evening can be found here.