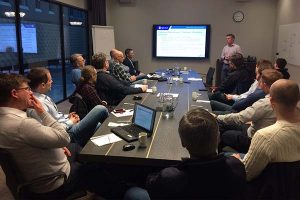 EffecTech's Business Development Director, Dr Paul Holland, visited Norway in the first week of February on a tour arranged by Effectech's agent for the region. He presented four half-day seminars to key LNG and natural gas customers in Stavanger, Bergen, Trondheim, and Oslo.
The presentations covered all aspects of gas quality measurement, including what makes a good calibration gas, a comparison of the NORSOK test and an ISO 10723 performance evaluation, and proficiency testing schemes.
If you are interested in attending a similar seminar in the future, please contact us for more information at info@effectech.co.uk.