On 22 and 23 January, 13 EffecTech employees took part in a health and safety training course to learn how to safely perform CPR and use defibrillators.
The training was provided to ensure that staff can provide appropriate first aid to those in need, whether they are at work or elsewhere. Safety of staff, contractors and visitors is always EffecTech's first priority and the company has an AED (automated external defibrillator) in each of its three buildings in Uttoxeter.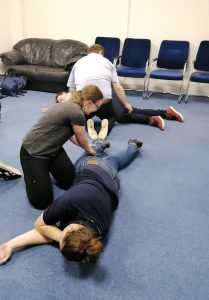 The course was delivered by Matthew Holford of Workplace First aid Training Solutions. Founded in 2019, the company was set up when Matthew retired from the British Army after 22 years of service, 15 of those as an instructor.