EffecTech is committed to supporting the wider community in which it operates.
Armed Forces Covenant
EffecTech is a signatory of the Armed Forces Covenant. The Armed Forces Covenant is a promise by the nation ensuring that those who serve or who have served in the armed forces, and their families, are treated fairly. Companies can support the covenant by offering assistance to serving personnel, veterans and their families in a number of ways, such as employment opportunities.
Silver Award
On 28 July 2021, EffecTech was awarded the Defence Employer Recognition Scheme Silver Award. This Ministry of Defence award recognises companies for their support to the Armed Forces community, including Reservists, veterans, spouses, Cadet Forces Adult Volunteers and cadets.
EffecTech's CEO, Dr Gavin Squire said "I was thrilled to receive our notification that EffecTech has been formally recognised for a Silver Award under the Defence Employer Recognition Scheme. It gives me a sense of immense pride to be in a position to be able to support and recognise the sacrifices made by current and past Armed Forces personnel and to their wider families.
"It is only right that those businesses who are able to do so provide opportunities for employment and other forms of engagement through positive treatment during recruitment. After all, such people have had the best training in life skills any employer could wish for; skills that can be deployed to provide quick wins for any ambitious business.
"By giving back in our small way as payment for their selfless courage I hope that our business can make a difference to the lives of such amazing people."
The West Midlands Reserve Forces and Cadets Association has more information and details of the other companies that also received the award.
Armed Forces Week 2021
To mark the Armed Forces Day and week, and to raise money for Combat Stress, the UK's leading charity for veterans' mental health, we had a socially distanced coffee morning on 24 June, 2021 with cakes, bakes and savouries made by staff, including red velvet cookies, cupcakes, summertime chia pudding, bara brith and salted caramel brownies.
The coffee morning raised £235 for the charity.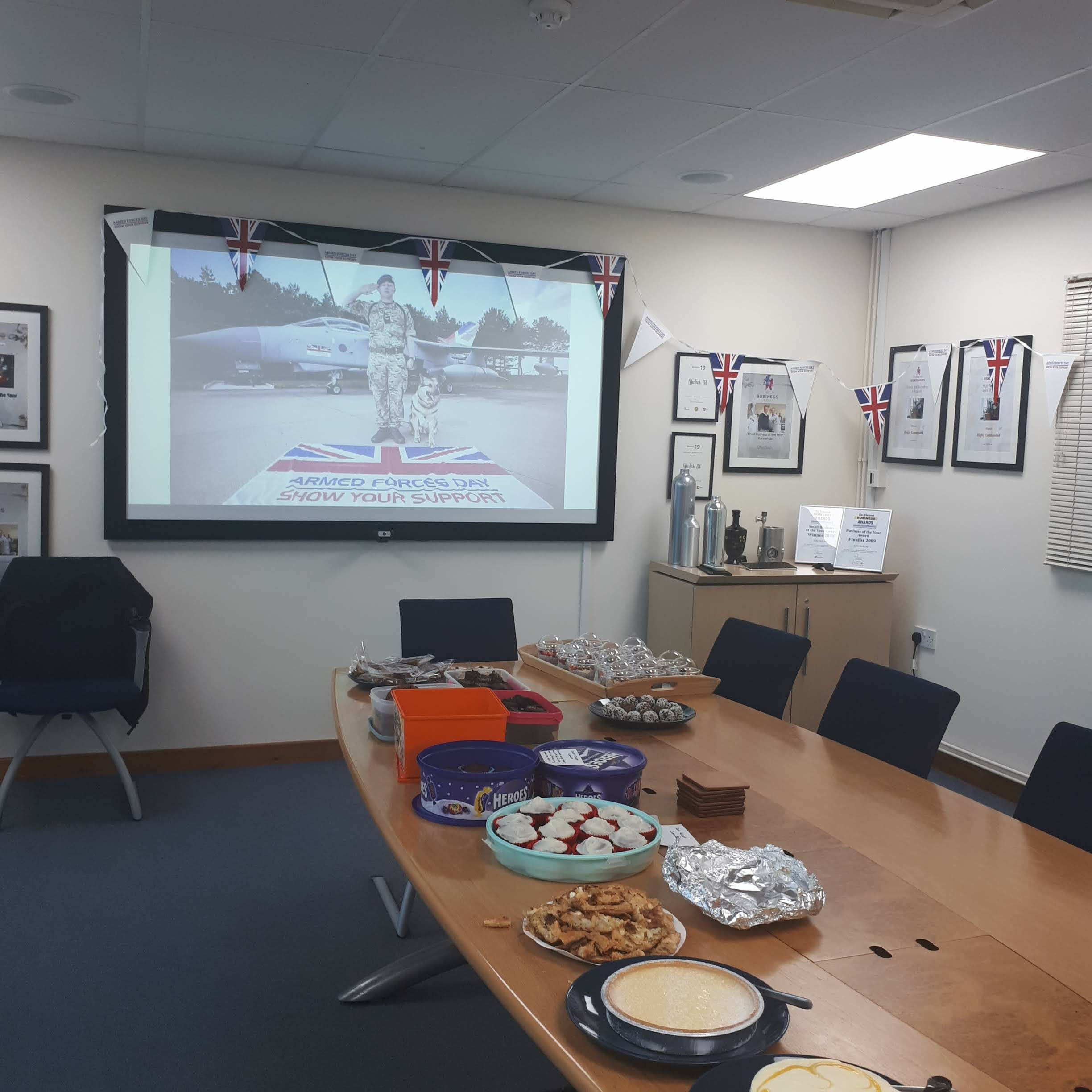 The image on screen is ©UK MOD Crown Copyright 2020.
Sponsorship
EffecTech has sponsored a number of children's football teams, including Barrow Town and Quorn FC, and has been the kit sponsor for the local Uttoxeter rugby team for boys aged 17 or under.
EffecTech sponsored the 2017 JCB Mud Run and company staff have participated in the race several times.
Supporting Charities
EffecTech also encourages staff to participate in sponsored events.
In 2021
Site Engineer, Jack Barradell, organised an Olympics sweepstake at EffecTech which raised £105 for the Campaign Against Living Miserably, a charity dedicated to preventing male suicide
Quality Manager, Alex Allsopp, raised over £250 for her local school to buy books as part of EffecTech's commitment to the Staffordshire Business Pledge for Literacy.
Marketing Manager, Kate Leech donated 14 inches of hair and raised over £400 for the Little Princess Trust, which provides free real hair wigs to children and young people, up to 24 years, who have lost their own hair through cancer treatment or other conditions
In 2020
Production Chemist, Rob Freeman, organised a Football Shirt Friday on 20 November for The Bobby Moore Fund for Cancer Research UK (CRUK), which raises vital funds towards bowel cancer research, raising over £300
EffecTech held a Macmillan coffee morning to raise money for cancer research. Organised by Technical Sales Specialist, Shelly Spooner, the company raised £211.
Marketing Manager, Kate Leech, also raised over £400 for Macmillan Cancer Support

by participating in a 6-hour spin class at Keele University Sports Centre in February 2020.