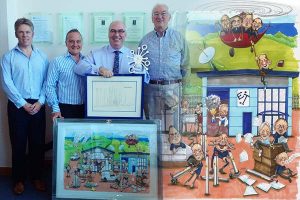 After 17 years service, EffecTech said its goodbyes today to Patrick Wallis, Founding Partner and Director of Operations.
A day of mixed emotions saw Patrick receive various mementos from his time with the Company including a facsimile chromatogram of natural gas, a specially commissioned drawing of the Company and its staff represented as caricatures and a cast metal service award.
The photograph shows the Executive Board of EffecTech and owners (l-r) Dr Paul Holland, Dr Gavin Squire, Patrick Wallis and Christopher Cowper.
Dr Gavin Squire, CEO EffecTech Group, said:
"The recognised status of EffecTech as Global Leaders in Gas Measurement is testament to the contribution Patrick has made since the Company's humble beginnings in 1996. He will be sorely missed."